Cinema program "Blue Beetle" in Kraków
No showtimes for movie "Blue Beetle" for today
Choose other date from the calendar above.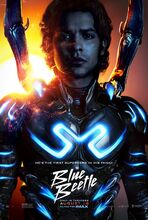 Original title:
Blue Beetle
Runtime:
127 min.
Production:
USA/Maksyk , 2023
Release Date:
18 August 2023
Distribution:
Warner
Directed by:
Angel Manuel Soto
Cast:
Susan Sarandon
,
Xolo Mariduena
,
Raoul Max Trujillo
Jest superbohaterem, czy mu się to podoba czy nie. #BlueBeetle w kinach od 18 sierpnia.
Świeżo upieczony absolwent college'u, Jaime Reyes, wraca do domu pełen aspiracji i nadziei na przyszłość. Okazuje się jednak, że dom nie wygląda tak, jak go zapamiętał. Kiedy chłopak szuka swojego celu w życiu, interweniuje los. Jaime niespodziewanie wchodzi w posiadanie starożytnego przedmiotu, będącego wytworem obcej biotechnologii: Skarabeusza. Skarabeusz wybiera Jaimego na symbiotycznego gospodarza. Chłopiec otrzymuje niezwykłą zbroję, umożliwiającą dysponowanie niezwykłą i nieprzewidywalną mocą. Zbroja trwale zmienia przeznaczenie Jaimego, który staje się superbohaterem BLUE BEETLE.
Movie trailer: Blue Beetle