Cinema program "Suzume" in Kraków
No showtimes for movie "Suzume" for today
Choose other date from the calendar above.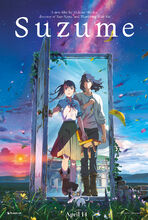 Original title:
Suzume
Runtime:
122 min.
Production:
-
Release Date:
21 April 2023
Distribution:
UIP
Directed by:
Makoto Shinkai
Cast:
Nanoka Hara
,
Hokuto Matsumura
,
Eri Fukatsu
"Suzume" to opowieść o dojrzewaniu 17-letniej głównej bohaterki. Animacja rozgrywa się w różnych dotkniętych katastrofą miejscach w całej Japonii.
Podróż Suzume rozpoczyna się w spokojnym miasteczku w Kyushu (południowo-zachodnia Japonia), kiedy spotyka chłopaka, który szuka tajemniczych drzwi. Suzume znajduje je zniszczone pośród ruin, jakby były osłonięte przed jakąkolwiek katastrofą. Suzume zdaje się być przyciągana przez ich moc i sięga aby je otworzyć... Drzwi zaczynają otwierać kolejne drzwi w całej Japonii, siejąc zniszczenie. Suzume musi zamknąć te portale, aby zapobiec dalszej katastrofie.
tekst: tylkohity.pl